Streamline PSG sleep diagnostic testing with integrated in-lab sleep testing and home sleep apnea testing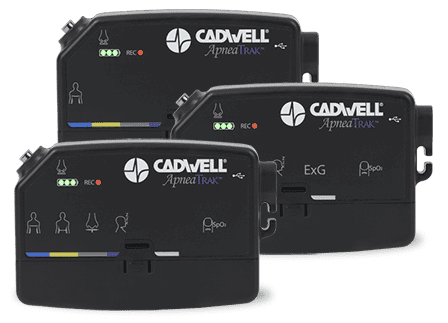 ApneaTrak Type 3 HSAT
Seamlessly integrate Type 3 home sleep study tests into your sleep lab with the new generation of ApneaTrak Home Sleep Apnea Test (HSAT) device. Patient instruction videos, and color-coded connections help improve study success rates.

Easy Ambulatory 2 Type 2 PSG
Collect Type 2 sleep study tests with the Easy Ambulatory 2 amplifier. Q-Video® Mobile 2 records synchronized digital video during ambulatory studies. Easy Ambulatory 2 can also be configured for EEG.
Sleep Diagnostics Software
Streamline your sleep diagnostic testing with integrated polysomnography and home sleep apnea testing. Initialize, record, score and review both home sleep apnea testing and in-lab sleep testing, and perform all of your sleep diagnostics using one efficient software platform and workflow.
Monitor Anywhere
Access all stored data as well as live recordings from anywhere via Citrix. Build physician worklists so you know which studies you've already done and which studies need to be completed.
Sleep Software Features
Flexible workspace configurations
Customizable montages
Intuitive oximetry messaging
Better data management
Bedside impedance checks
Improved sleep scoring workflow
Customizable reports
Download flyers, get software updates, and request PSG and HSAT hardware and software features
Find all the disposable and reusable sleep electrodes and accessories you need at estore.cadwell.com
Explore Easy III PSG and ApneaTrak HSAT products
Schedule your PSG and HSAT demo
Product availability may vary between different countries and markets. Please contact Cadwell for additional information.