Sierra Software
Sierra – Innovative Electrodiagnostic Software
Sierra software for Electrodiagnostic testing
Sierra® 4 is a modern and intuitive software for Sierra Summit. Sierra 4 offers simple setup and new diagnostic tools for EMG, nerve conduction, evoked potential, and neuromuscular ultrasound examinations.  Sierra software is completely integrated into the Summit base unit controls, the StimTroller Plus™ handheld electrical stimulator, Sierra NMUS1 neuromuscular ultrasound, the mouse, the footswitch, and auxiliary stimulators. These components can be programmed in the software to control the function of your preference.
The Sierra software user interface is customizable, flexible, and rich with features designed to improve accuracy and reduce testing time. Color themes, workspaces, protocols, techniques and reference limits can be set up to each user's preferences.
Tests can be edited or even created on the fly during a case. You can add, delete, or rearrange sites and segments; compare to normative values or see contralateral comparisons; and sort results into a variety of tables. Neuromuscular ultrasound parameters can be predefined and stored as protocols for different anatomies, just like EMG and NCS protocols.
Sierra 4 software enhancements
NCS+, EMG+ and SFEMG+ testing protocols
MUNIX estimate and track over time the number of motor units in a muscle.
Sierra Analytics – a results database to generate retrospective information based on your patient population
New layout features for workspaces (how trace windows are displayed)
Notable Sierra software features
Choose from two non-concurrent channels with the 1-2 channel amplifier, or between two and 12 concurrent channels with the 1-2 channel and 3-12 channel amplifiers. License only the channels that you need.
Customize workspaces with color themes, protocols, techniques, and reference limits set up for each user's preferences
Tests can be edited or created on the fly. During a case, you can add, delete, or rearrange sites and segments; compare to normative values or see contralateral comparisons; and sort results into a variety of tables.
Superimpose traces for comparison and align traces
Calibrate any screen for great data viewing
Switch users without interrupting a study
Create customer patient information fields
Export and share data securely with tools including CadLink Information Management, CadLink HL7 EMR Interface, EMG to AVI Converter, EMG Audio Export, DataLAB™, and ASCII Output Utility
Anonymize studies for research and teaching
Customize report templates and create narratives with QuickReport™, Auto Findings Composer, and CadCapture™
Want to see Sierra software in action? Contact us for a demo.
Upgrade to the latest version of Sierra software
Take advantage of Cadwell's free software updates to access new diagnostic tools and time-saving enhancements at cadwell.support.
Sierra Protocols
Preset and custom protocols reduce testing time and ensure consistency. Auto-cursors let you place cursors on any trial with the click of a button, and test-specific functions help you easily acquire and analyze data. Whether you're comfortable with our environment or new to Cadwell, our flexible software gives you the benefit of both classic and advanced Sierra '+' protocols.
Sierra software protocol quick links
Use the buttons below to quickly jump to your protocol of interest.
Electromyography Protocols | EMG & EMG+
Control gain, sweep, run/stop, playback, and volume controls with the StimTroller Plus™.
EMG+ Major enhancements
Improved EMG decomposition and MUP detection
Improved Firing Rate and Recruitment Ratio analysis
Improved workflow
Muscle scoring improvements
New MUP results table
Added features to support Viking and KeyPoint workflows
Docking and auto-hiding windows offer better workspace flexibility
See it how you want to
Maximize clinical information in electrodiagnostic exams. Seamlessly transition from a standard muscle view to a detailed investigation without adding time or complexity.
Custom views give you full control of displays, colors, tables, and test protocols.
Simultaneously display data in multiple formats to maximize extraction of clinical information and reduce study time.
User-defined roles mean that you get your unique settings every time.
Hear it how you want to
Audio is important in EMG, and we aced it. Our two HD-quality speakers are loud with instant signal processing.
Use the Audio Equalizer to customize your audio so EMG activity sounds familiar.
Use it how you want to
Customize your workflow with user-defined studies, tests, controls and settlings that can be adjusted on the fly.
Take advantage of hands-free MUP triggering, Multi-MUP analysis, turns/amplitude analysis, and real-time interference pattern analysis.
Get immediate quantified results compared with published norms.
EMG Classic
Maximize clinical information, reduce testing time, and increase confidence in your diagnosis with a seamless transition to live quantitative EMG.
Live Single-MUP analysis and auto trigger
Live Multi-MUP analysis
Live recruitment ratio analysis
Live firing rate analysis
Live Interference pattern analysis
Live MUP stability analysis
Display results as tables or charts
Multiple export options and API access
Anatomy Navigator
Quickly filter lists of muscles, tests and scanning sites by clicking on an anatomical region or double-click to have commonly tested muscles from that region populate your muscle scoring table.
Nerve Conduction Protocols | NCS & NCS+
Control intensity, pulse width, distance, nerve selection, site selection, trace selection, and more, and run an entire NCS from the palm of your hand with the StimTroller Plus™ handheld stimulator.
NCS+ Major enhancements
Simplified setups for Tests and Reference Limits
Improved result table management and sorting
Improved workflow and flexibility (i.e. adding testing sites on the fly and fixing mistakes)
Improved patient comfort: F-waves can inherit traces from Motor tests
NCS Test Protocols
Motor Studies
Sensory Studies
Inching
F-Wave
H-Reflex
Mixed Studies
Repetitive Nerve Stimulation
Blink Reflex (Electric and Manual Stim) Silent Period
Triple Stimulation
LLR
Near-Nerve Studies
MUNE – MPS/Incremental
Collision Studies*
* Optional upgrades
Glowing and Hold Max
Previous responses fade into the background for easy comparison. Hold Max automatically selects the supramaximal response.
Improve Button | F1
Reduces shock artifact, flattens the baseline and improves accuracy.
See the full story with combination tests and strategies
Display multiple test types or even an entire strategy in the same display.
Simultaneously display motor, sensory, F and H responses to reduce testing time, improve result analysis, and facilitate advanced test protocols.
Integrated nerve conduction controls in the Sierra Summit base unit, handheld stimulator, mouse, and footswitch can be programmed in Sierra software to control the function of your preference.
Trace history and trials
See the entire stim history at once or one trace at a time. Save multiple trials per site.
Live and Post Hoc Averaging
Average or exclude traces post acquisition using either trace history option.
Visible Reference Limits
Show the reference limits on traces during cursor adjustment or review.
Streamline testing, review and reporting
Efficiently and effectively review and communicate diagnostic results
Reduce interpretation time with real-time comparisons and Tabular Data Summary View
Eliminate the need to report a summary of findings with Auto Findings composer with custom phrasing
Create a personalized report with just a few mouse clicks using QuickReport™ and custom templates
Flexible and clear Results Tables
Display various parameters for clinical applications and research with advanced reference limits, comparisons, and on-the-fly editing
Evoked Potential Protocols | AEP | SSEP | VEP
Sierra Summit offers a full suite of evoked potential tests that can be modified to fit the needs of your practice. Complement your other tests, including EMG and MRI scans. With Sierra EP Protocols, you can detect, confirm, and monitor problems with nervous system function.
Sierra Median SEP 4-Channel
Features:
Scale from 1-12 channels and easily add or re-montage channels during acquisition
Personalize views for side-by-side comparisons with a vertical or horizontal split screen
Advanced post processing: compare, combine, average, grand average, smooth, and invert trials
Custom cursors and calculations: latency, amplitude, inter-latency, inter-amplitude, percentages, ratios, and side-by-side comparisons
Live Test Edit: easily adjust parameters, protocols, and channel count during acquisition
Auditory (AEP) Protocols
AEP
MLR
VEMP
ECochG
P300 with Headphone
Bone Transducer
Insert Earphones
Condensation, Rarefaction, and Alternating
Click, Tones, PIP 202 and PIP 212
WAV, Trigger-In and Trigger-Out
Somatosensory (SSEP) Protocols
Advanced post processing: Compare, add, average, grand average, smooth and invert trials
Advanced stim and acquisition modes:

SEP
Dermatomal SEP
Interleave SEP
Trigger-In
Trigger-Out
Stim
Visual (VEP) Protocols
Use any LCD monitor with Sierra Summit's Calibration Sensor
Pattern VEP
Flash, ERG
Goggle
Trigger-In
Trigger-Out
Selectable Fields, Check Sizes, and Targets
NMUS+ Protocols for Neuromuscular Ultrasound
The Sierra NMUS1 Ultrasound device is completely integrated into Sierra software with the NMUS+ protocol, enabling high image quality, integrated workflow and results, and muscle quantification mode.
The NMUS+ Protocol supports the NMUS1 Ultrasound Scanner and Probes with full integration in Sierra 4 software and Sierra Summit hardware. The workflow complements NCS and EMG with unique features for nerve and muscle quantification. NMUS+ with the Sierra NMUS1™ ultrasound scanner offer great image quality and simple reporting with imaging and data tables. This new ultrasound protocol requires upgrading to the new Sierra NMUS1 ultrasound scanner and probe(s), and also requires a computer with a Thunderbolt connection.
B-Mode: Measurements: distance, area, circumference, volume and angle
CFD-Mode
M-Mode
PW-Mode
Q-Mode: our cutting-edge proprietary technology that offers a dual stream of B-Mode and RF data that can be used for researching ultrasonic quantification of muscle and nerve tissue. Measurements include: mean echo intensity (EI) and mean echo intensity compensated for signal attenuation (EIc).
Single Fiber EMG Protocol | SFEMG+
SFEMG+ protocol gives you real-time jitter analysis with automatic triggering and peak detection. All live data is saved, so you can easily perform edits and refine the results at any time. SFEMG+ protocol enables hands-free recording, automatic peak detection and triggering, real-time analysis with live results and normative data for standard concentric needles. You can exclude traces and refine results in seconds. Sierra software can be programmed to control SFEMG settings and functions with integrated controls on the Summit base unit, the StimTroller Plus handheld stimulator, the mouse, and the footswitch.
Major SFEMG+ enhancements
Workflow and efficiency improvements
More intuitive results tables and histogram
Better peak analysis
Docking and auto-hiding windows offers better workspace flexibility
New MUNIX + Protocol
This new protocol combines motor NCV and surface EMG to derive a motor unit number index (MUNIX) of a muscle, which can be used to track disease progression in motor neuron diseases, including amyotrophic lateral sclerosis (ALS or Lou Gehrig's disease)
MUNIX+ Protocol is part of the MUNE license
MEP+ and Triple Stim Protocol
MEP+
Use magnetic stimulation for motor evoked potentials
Commonly used internationally, MEP+ is growing in use in the United States, specifically in Gastroenterology and teaching hospitals
Electrodiagnostic Reports
Efficiently and effectively reviewing and communicating diagnostic results is a top priority. Sierra software is designed with many timesaving and intuitive reporting features specifically focused on helping physicians manage their many responsibilities.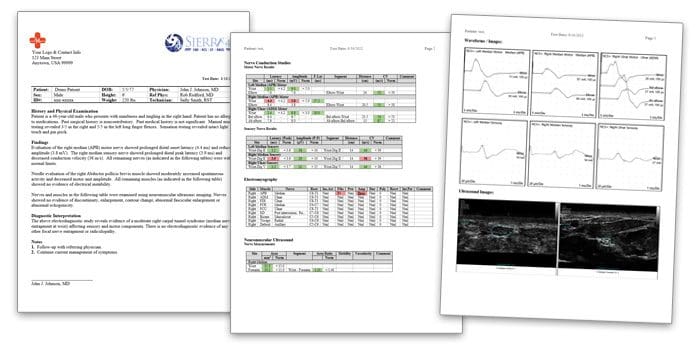 Optimize your post-exam workflow
Leave the exam room and finish your diagnosis and reporting in your office or from any computer connected with CadLink®
Have an identical user experience from any computer with synchronized settings and role-based user management
Remotely view tests that are being acquired by a technician or resident
Easily access previous studies, including EEG and IONM cases and compare with recent results
Anonymize and export data in multiple formats for publications, presentations, or research
Reviewing and reporting features
Tab Data Summary View: See all test results and waveforms with the click of a button, and complete your report without switching screens. Adjust cursors, replay buffers, and edit the muscle scoring table.
CadCapture™: Anonymize and export data in multiple formats for publications, presentations, or research, and create training videos and lectures with CadCapture video and screen capture.
Auto-Findings Composer: Automatically generate findings paragraphs based on reference values, and compare your NCS and EP results with normative data, instantly summarizing your findings in paragraphs or bullet points. Personalized wording and language give you full control of how your results are communicated.
QuickReport™: Complete your report while you are performing the examination with custom templates and selections accessible during patient entry, acquisition, and review. Create a personalized report with just a few mouse clicks.
Custom Reports: Several professional report templates are included with the Sierra Summit, however you have full control to modify or create your own report templates. Ultrasound images and measurements can also be included.
Anatomy View™: Anatomical images illustrating results can be included within the report to better communicate neurodiagnostic findings.
EMR Integration and Data Management: Reports can be automatically sent to the patient's EMR as embedded data or as an attachment when using CadLink with HL7. Reports can also be emailed, printed, or saved locally or to a remote server. Multiple formats are available including .pdf, .docx, and .rtf.
Sierra Summit
Designed and engineered for Sierra software
Scalable Sierra Summit hardware and Sierra software offer you a variety of stimulators, amplifiers, and test protocols for scaling the EDX system your practice requires. The system offers many innovative features to maximize clinical information and decrease exam time.
Improve your workflow with CadLink data management software
CadLink® offers secure and efficient access to clinical information when and where you need it
An enterprise-level patient and database management system for EEG, EMG, and IONM. It has full patient bi-directional HL7 integration with the Enterprise EMR.
Download materials, get software updates, and request hardware and software features
Shop for all the EMG electrodes and accessories you need
Explore Cadwell EDX products
The Sierra® family of products are the ideal solution for Chemodenervation, EMG, EPs, NCS, Ultrasound, and Electrodiagnostics in Urology.
Request an EMG, NCS, EP, and Ultrasound Demonstration 
Product availability may vary between different countries and markets.
Please contact Cadwell for additional information.